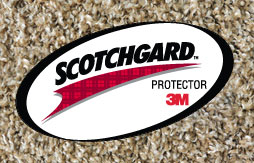 We offer and highly recommend 3M Scotchgard Application with our carpet cleaning services. This product acts as a protective barrier for your carpets with two protective properties. The first protects the fibers in your carpet from colored dyes which would normally penetrate the fibers. This property causes dyes to bead up on your carpet, rather than soaking in. The second property works more with dry soil and preventing it from bonding to your carpet which will allow your vacuum to pick up more of that loose debris.

Reapplication of Scotchgard protectant is best to be applied between 6 months to 2 years, depending on the amount of traffic on your carpets. Regular foot traffic and some harsh cleaning products can cause this protectant to break down. We suggest that Scotchgard be applied with every carpet cleaning for the best results.
You can expect these benefits with using Scotchgard Carpet Protector:

1. Reduce Permament Stains - Spills bead up on protected carpet, allowing you more time to clean the spill and a more thorough clean.

2. Helps High Traffic Areas Last - High traffic areas of your home are the most likely to face damage. Protecting these areas is vital to your carpets life. When these areas are protected, the amount that your vacuum can pick up increases dramatically.

3. Spots are Easier to Remove - When your carpet is protected, you will be able to clean up spots easier, many times just with water. Using less chemicals and causing less aggitation to your carpet will help protect it's look and life.
4.  Allows you to take advantage of our Spot and Spill Waranty- Contact one of our representatives for details.